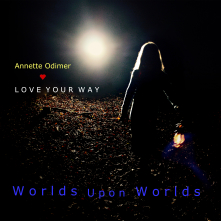 Annette Odimer & Love Your Way –RELEASE, EP & Music video
EP Release: December 2, 2017, Distributed by: Gateway Music (DMF), Musicians: Annette Odimer (vocal / guitar / harmonica), Anders Toft Larsen (drums / xylophone), Estera Kwiecień (cello), Jeppe Skovbakke (double bass). Mix / master: Morten Bue. Recorded in Black Tornado Studios in Copenhagen January 2017, Tracklist: Full Moon, Night Sky, In the Sun, Along the Stream. All songs written and composed by Annette Odimer. At In the Sun Michael Barnett is co-author. The EP is generously supported by KODA and Danish Composers Society.
Music Video -Night Sky Filmed and edited by NG Media, Starring: Rosalind Odimer, Music by Annette Odimer - Love Your Way. The video is generously supported by DPA
Release concert

at Noisy Beehive 2/12, 21.00 Rådhusstrædet 13, 1466 Copenhagen. Welcome!